Berry and Orchard Loops Win PPN Editors' Choice Awards!
It's time to celebrate as our Orchard and Berry Loops, from the Selective Naturals range, have won the Pet Product News (PPN) Editor's Choice Awards! The PPN awards are held annually and aim to highlight the best new products in the pet trade industry, and we are delighted that, this year, their editors have selected our Berry and Orchard Loops as two of their winning products.
We launched these two treats earlier this year, and since then they've been nibbled up by lots of rabbits, guinea pigs and chinchillas. Both treat products are rich in natural ingredients and contain nutritious, high-fibre Timothy hay to help support digestive and dental health, as well as natural fruit flavours – with the Berry Loops containing cranberry, and the Orchard Loops based on apple. These tasty flavours are appealing to small pets and, best of all, they mean there's no need for any added sugar or artificial colours.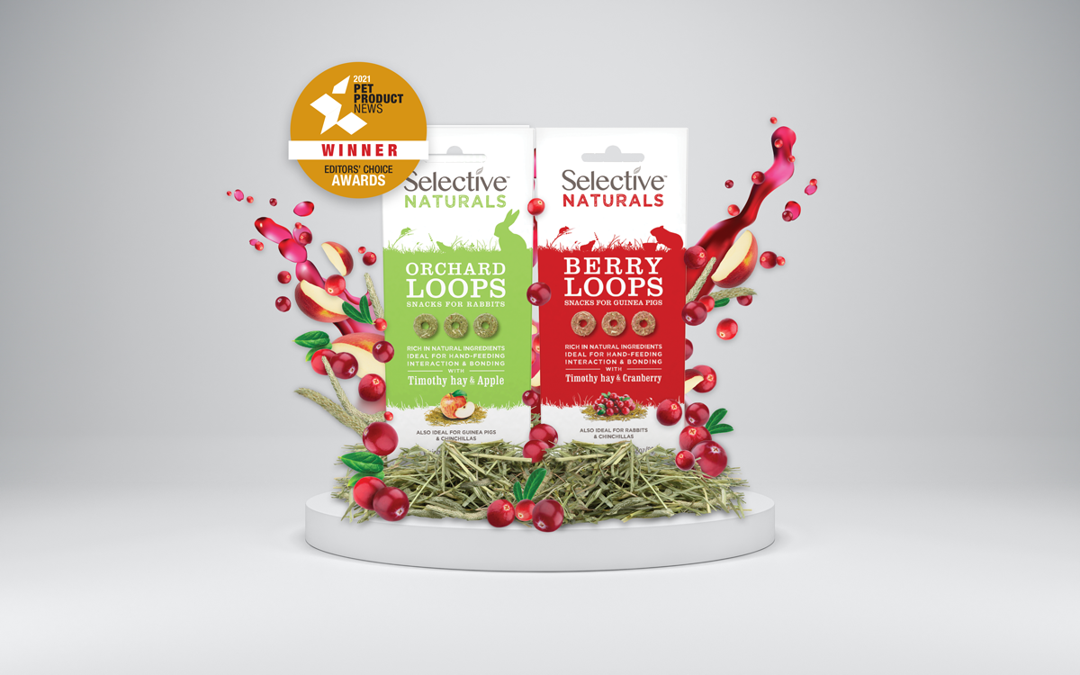 Both treats have proved to be extremely popular since they came out earlier this year. Their small size makes them ideal for hiding in bedding and hidey holes, which helps encourage natural foraging behaviours, and serves as a great enrichment activity to improve the overall wellbeing of small pets. The treats are also great for hand-feeding, which gives owners the opportunity to interact and strengthen the bond they have with their pet.
Selective Naturals Loops provide a delicious and healthy treat option for pets to enjoy – helping owners indulge their small pets while supporting their overall health and wellbeing. Berry Loops and Orchard Loops have an RRP of £2.99 and are available now at most large pet shops.