Berry Loops Treats Win Pet Business Industry Recognition Award!
Berry Loops Treats Win Pet Business Industry Recognition Award!
We are absolutely delighted to announce that our Selective Naturals Berry Loops treats have received a Pet Business 2021 Industry Recognition Award in the small pet treats category! These annual awards celebrate exciting and successful products for pets, with winners individually selected by the Pet Business editorial team.
Berry Loops have been available since early 2021, and since then they've gone down a treat with rabbits, guinea pigs and chinchillas alike! They contain tasty dried cranberry, which makes them absolutely delicious for these small animals and removes the need for any added sugar or artificial colours. It's just not about the taste though: the treats are healthy too – they contain a variety of natural ingredients including premium quality Timothy hay, which boosts the fibre content to help support the dental and digestive health of small herbivores.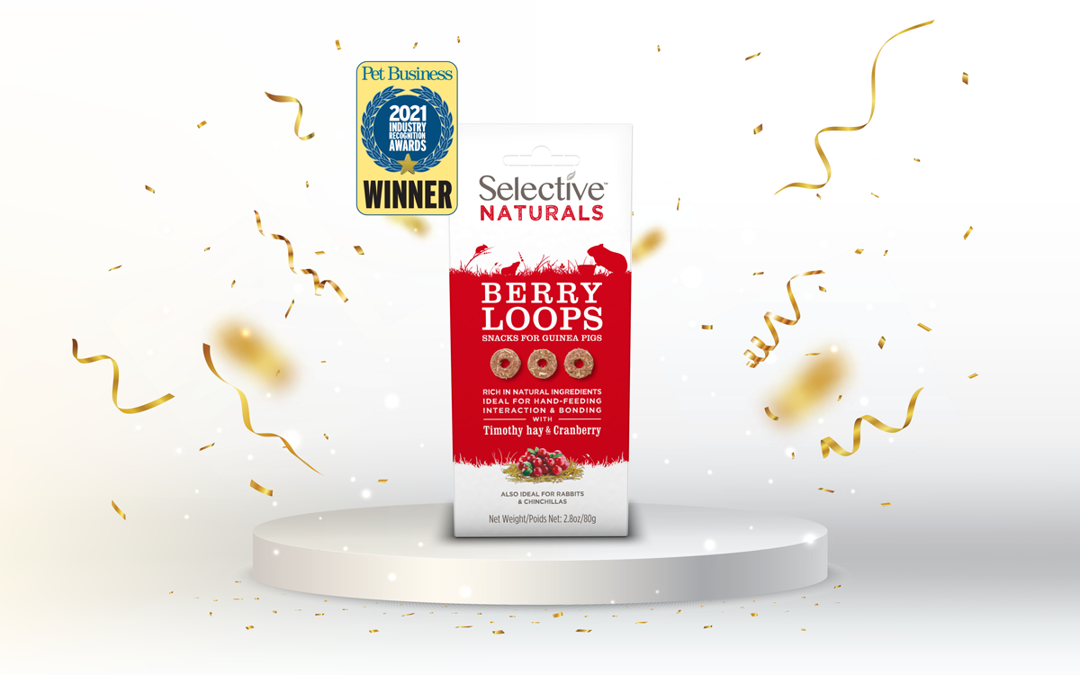 Treats are so important to help us enjoy quality time with our pets, and Berry Loops are the perfect size for hand-feeding, providing you with an opportunity to interact with your pet and strengthen your special bond. The Loops are also ideal for creating enrichment activities for pets, as they can be hidden in bedding and toys (including tunnels and nesting boxes), to encourage them to move around the enclosure and express natural foraging behaviours, which are essential for overall happiness and wellbeing.
"We're absolutely thrilled to receive this award," says Claire Hamblion, our Marketing Director. "We pride ourselves on developing pet food and treats that meet the needs of small pets while tasting great, and we've been so pleased to see Berry Loops proving so popular. It's wonderful to have these special treats celebrated with this award."
Our Berry Loops are part of our highly successful Selective Naturals Treats range, which consists of a huge variety of healthy and delicious treat options for pets to enjoy – helping you indulge your small animals, while supporting their overall health and wellbeing.
Berry Loops have an RRP of £2.99 and are available now at most large pet shops.