Sand Baths For Your Small Furry Friend
Part of being a pet parent to a chinchilla, hamster, gerbil or degu involves keeping them clean and healthy. But put away the shampoo, baths for these companions do not involve water, but sand.
These clever furry friends are natural self-groomers, and many of them do a great job keeping themselves clean. In fact, chinchillas are one of the most cleanly animals you can own. But to optimise their health fully they still require sand baths multiple times a week. This is essential for absorbing excess oils from their skin as well as recreating natural behaviour. Sand baths are also a wonderful treat for your hamster, gerbil and degu, and can be offered several times a week.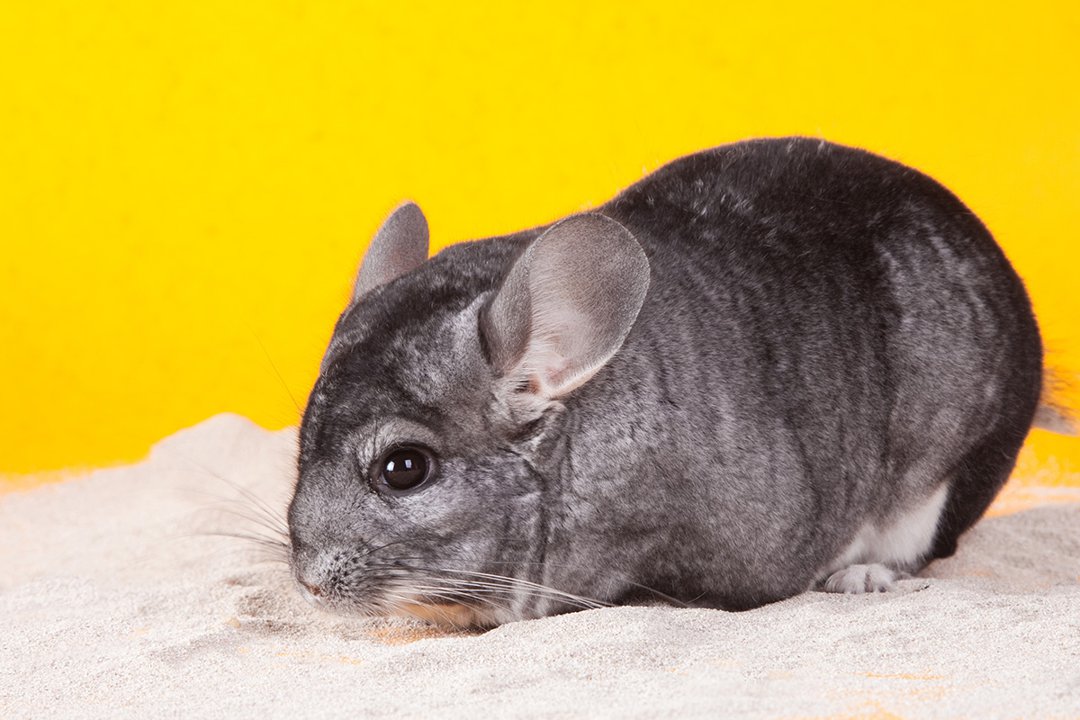 Can my hamster have a bath?
Hamsters love to burrow and explore, and so despite being efficient self-groomers their coat can get stuck with debris from their adventures. It is absolutely okay to bathe your hamster, but not with water.
Hamsters have no natural affinity for water. They are not swimmers and exposure to water causes them great stress which can agitate them towards unwanted behaviour such as biting. As well as being unpleasant for them it can also be harmful. Water can strip away the natural oils in a hamster's coat leaving it susceptible to catching a cold and getting ill.
Rather than bathing your furry friend in water, instead use bathing sand. Choose a soft, kind and absorbent sand that removes excess oils and promotes a clean, healthy and shiny coat. Harry, Charlie & Gerri Bathing Sand is a great choice that's soft and gentle on the skin, and Science Selective Bathing Sand is another high-quality option that is specially formulated to feel silky smooth, supporting a premium coat condition. Both of these are even suitable for pets with sensitive skin.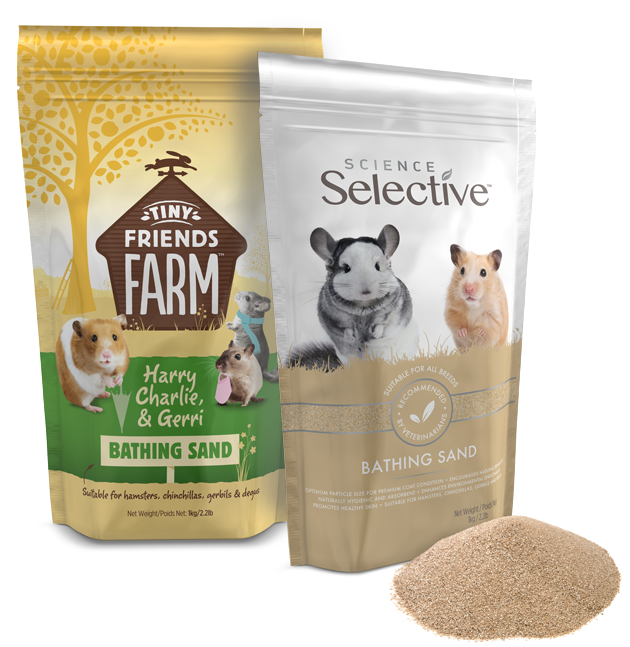 Does my chinchilla need a bath
Similarly, to hamsters, Chinchillas also need water-free baths. Their dense fur is very hard to dry once wet, and damp fur can lead to fungal infections.
Sand baths for chinchillas help to cleanse their fine fur of dirt, prevents moisture build up and absorbs oils and grease. Without this, their fur would clump together and become dull.
How do I bathe my hamster, chinchilla or degu?
Providing a relaxing, fun and health optimising bath for your furry pet is an easy process:
Use a small tray, one with enough room for your pet to roll around in
Fill it with 2.5cm/1" of Tiny Friends Farm Bathing Sand
Place your pet into the tray and let him have fun!
After 10-20 minutes remove your pet. Any longer than this could cause his skin to dry out
Remove any soiled sand
Sand can be reused throughout the weekly baths but do change the sand at least once a week.
Top tip: Using a high sided, or enclosed bath will prevent sand from being kicked around everywhere! Some sandy mess is to be expected, but just remember you are being a responsible pet owner by providing this essential routine to your loved companion.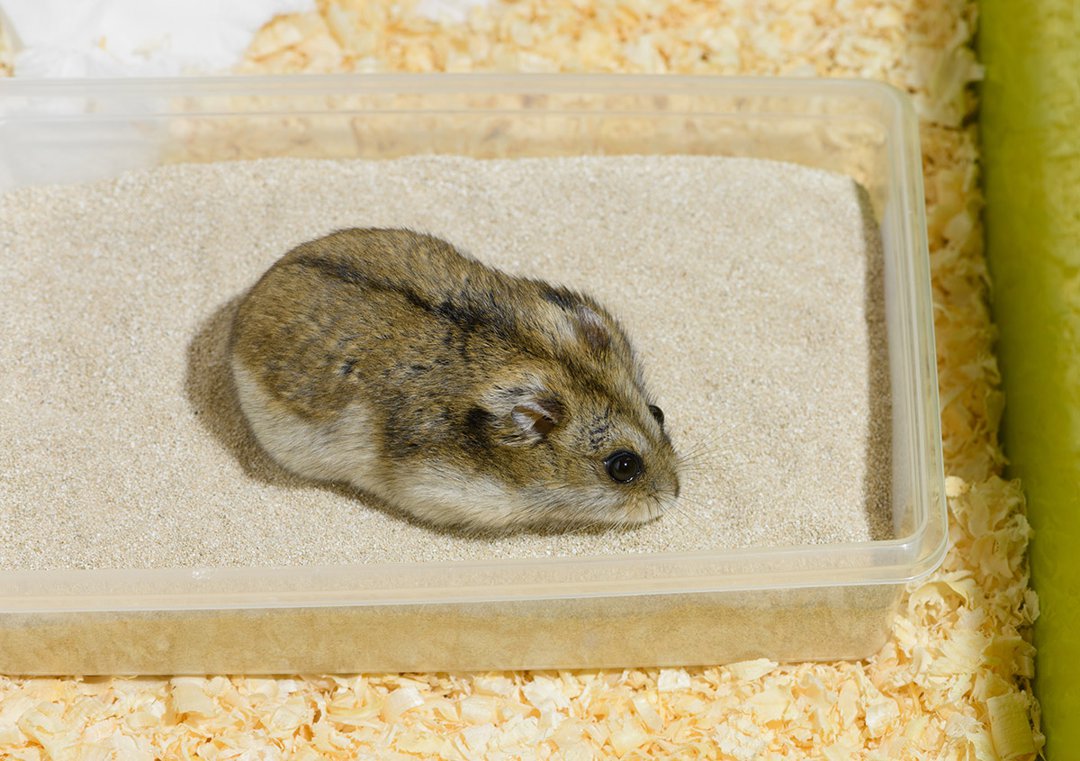 How often should I give my pet a sand bath?
Sand baths are essential for chinchillas and can be offered daily. Although a minimum of 2-3 baths will suffice, especially in colder drier weather.
Hamsters and Degus will benefit from a sand bath several times a week. Unlike chinchillas their use is not essential, but they are wonderful treats and help keep their shiny healthy coats.
Top Tip: It's best not to keep the sand bath in their cage all the time, as overuse can cause drying out of their skin. There is also an increased chance of their sand bath being used as a litter tray!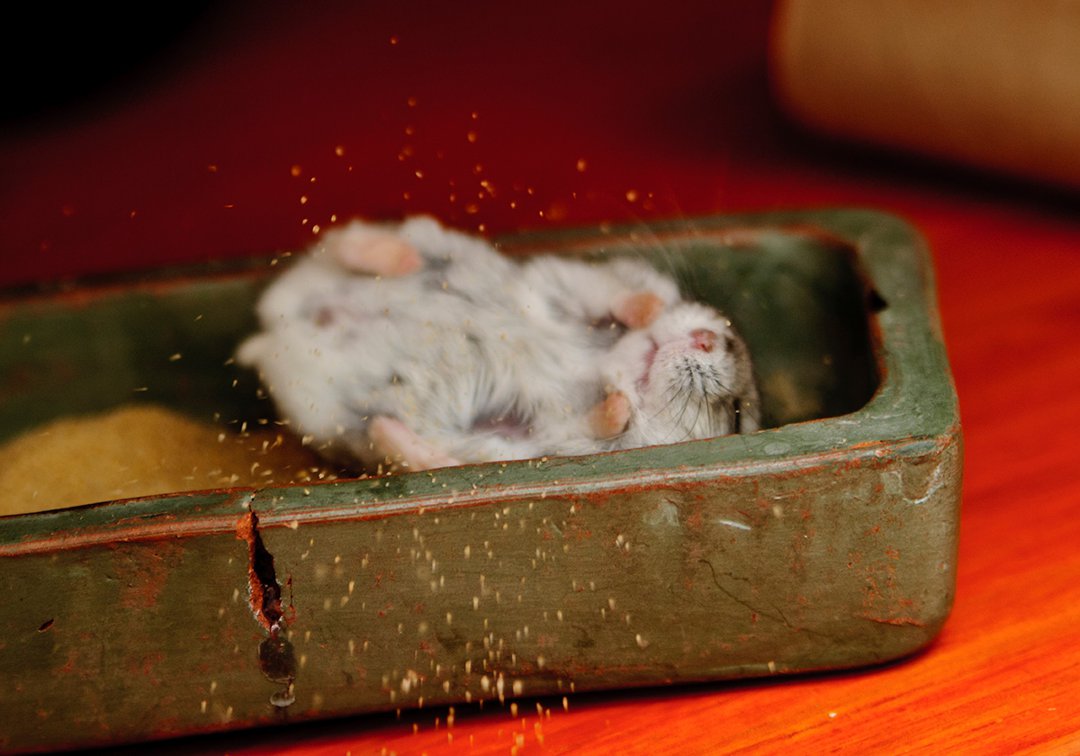 What type of sand should I use?
When selecting a bathing sand, it's best to choose a dedicated sand for chinchillas or hamsters. For example, Science Selective Bathing Sand is made specifically for these species, as it is designed to be super soft on their skin and paws. It's also important to select a sand that is highly absorbent and dust free – to help to avoid respiratory issues in hamsters.
Harry, Charlie & Gerri Bathing Sand is another sand that has all the qualities listed above, and the product is also environmentally friendly, thanks to its new eco-friendly packaging.
Beach sand can be very dirty (bacteria is not your pets' friend) and coarse, so don't be tempted to bring a holiday souvenir back for your small friend!
What's that smell?
Chinchillas, hamsters and degus are all clean animals, and it is unusual to notice any unpleasant odour from them. Hamsters have scent glands on their flanks which can differ in appearance and smell, but it is not usually strong.
The majority of bad smells you may notice are most likely from their bedding. It is important to clean their bedding regularly and to keep their cage clean.
If you do notice a sudden change in smell it may be worthwhile talking to your vet.